Award-winning Laser Tattoo Removal Houston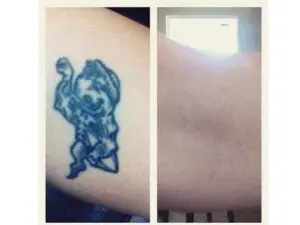 As an award-winning Laser Tattoo Removal Service in Houston, Texas. We pride ourselves on the quality of our work and the success of our achievements. These are evidenced in the feedback from all of our patients. We are located in West Houston near the airports and access routes to ensure our patients find us easily.
Clean Canvas is proud to use the advanced Quanta Q Plus C Laser System. Our world-class services are often mentioned when leading companies and methodology are discussed. We have no hesitation when we say that our knowledge and expertise set us apart from others. Our team always have proper consultations to establish what your expectations are. As a result, we ensure that all of our patients benefit from choosing us. We offer them the best advice prior to any processes being carried out. We do this to ensure that they make informed decisions about the best possible outcome.
Clean Canvas is known as a top-notch Laser Tattoo Removal Service in Houston. We have always based our services on a combination of professionalism, experience, the use of the best laser technology, and the individual attention we pay everyone that walks through our doors. Mentioned for qualities such as being attentive, caring, and knowledgeable, we promise every patient the best chance at success with regard to having a permanent tattoo and cosmetic make-up removed with almost no inconvenience and unpleasant sensations to patients' skin here at our upscale premises in West Houston.
Did you know? Approximately 75% of those with tattoos end up regretting at least one of them? Source: Healthline
Why Clean Canvas Laser Tattoo Removal?
Clean Canvas is regarded as an industry leader thanks to all of our satisfied clients. We have built our profile on high ethics, never promising anyone the impossible, as well as on our self-belief and the confidence we exhibit when we advertise ourselves as the top Laser Tattoo Removal Service in Houston. Our services have been sought after for many years, and we appreciate all the referrals we receive so regularly from satisfied clients.
Our prices are competitive and affordable, and we promise every valued patient only our best attention, with the success of their tattoo removal our top priority.
For your consultation with us, please contact us, call (713) 492-1019, or email us at [email protected]