Permanent Make-Up Removal in Houston, TX, and Surrounding Areas
Permanent makeup removal includes everything from blue eyeliner to permanent eyebrows. It may seem like a good idea at the time, after a few years, you might realize that the trend has passed, and you don't want to be stuck with an out-of-date make-up tattoo. Clean Canvas Laser Tattoo Removal can help. Our permanent makeup removal in Houston, TX, can give you a clean slate.
Whether you want to change your look or opt for a more natural one, we can make sure you have the freedom to do it.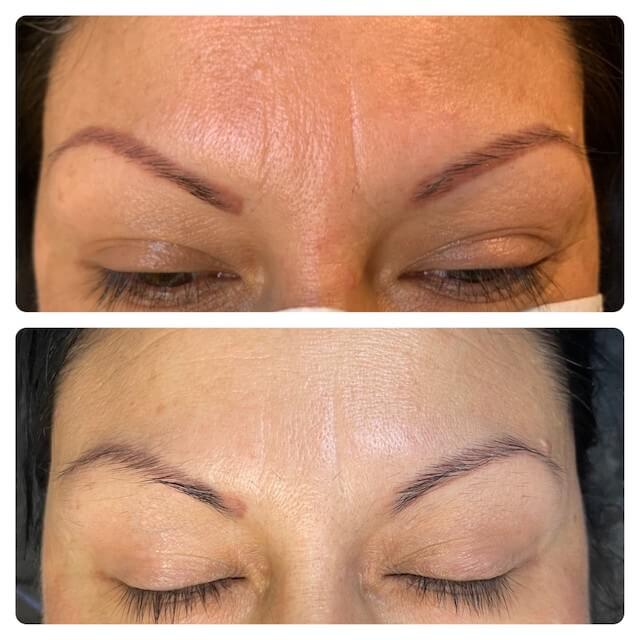 Removal Services
Clean Canvas Laser Tattoo Removal is an award-winning company, which means you'll receive expert make-up removal services. We are known for our thorough and high-quality removals, so you don't have to worry about your permanent make-up anymore. You won't experience burning or scarring after we are done either.
Our process begins with an initial consultation, where we talk to you about your expectations and how we will work together to meet them. We also make sure you understand the removal process so that you feel confident and safe when we begin. And if we feel that laser removal isn't the best option for you, we will go over all of your available options.
DID YOU KNOW? Ten percent of permanent makeup clients regret the procedure after their first session? Another eight to twelve percent will require "corrective measures?" – Source: Gitnux
Removal Experts
When you come to Clean Canvas Laser Tattoo Removal, you will receive expert permanent make-up removal and quality service. We are professional and caring, so you'll receive the help you want and the service you need. Clean Canvas is an industry leader in tattoo and permanent make-up removal, so you can feel confident knowing that you'll receive only the best service.
We also offer our quality services at affordable prices for your benefit.
Call us today to learn more about our permanent make-up removal in Houston, TX. We are the leading experts in permanent make-up and tattoo removal. Call us at (713) 492-1019.
ARE YOU READY TO START YOUR PERMANENT MAKEUP REMOVAL?
Lastly, no one knows better that you are a unique individual with permanent makeup. Because of this, we can help answer all of your related questions on pain, makeup removal cost, and much more. Feel free to
contact us
with your questions for a fast and free answer. Don't forget to scroll down to see our amazing work in the field.
Our Permanent Makeup Removal Work